Fusion resort and villas Danang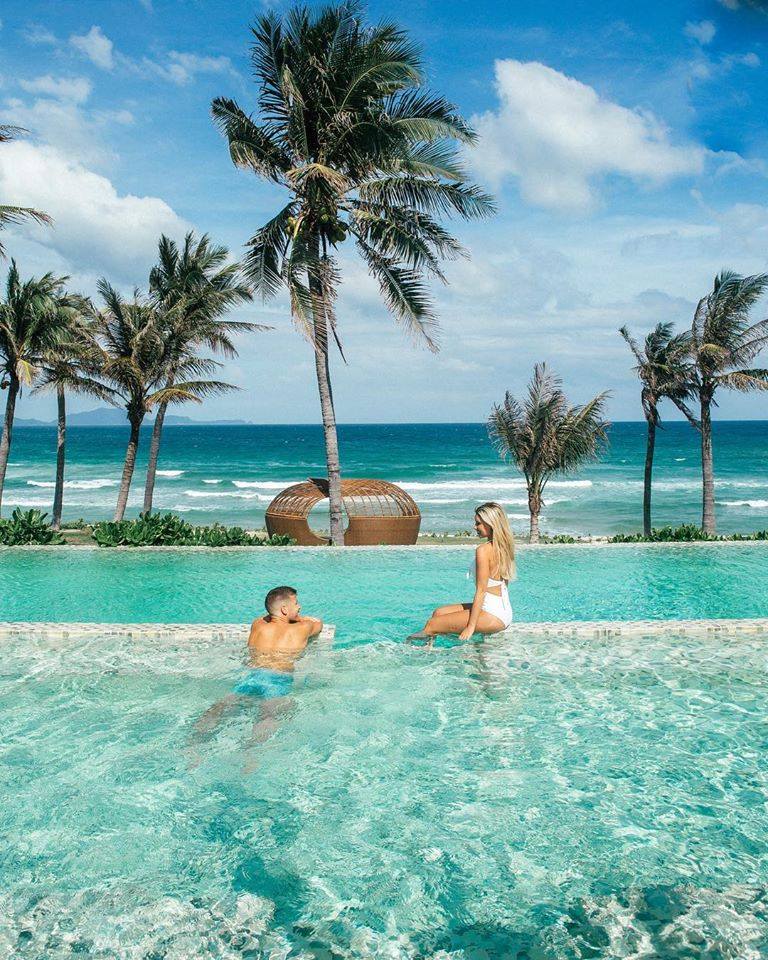 Fusion Resort and Villas is the most exciting new project with Beachfront Villas for Sale on the Da Nang luxury property map.
The five-star Fusion Resort concept includes 85 cocoons of luxury in form of 6 – bedroom to 1 – bedroom villas, all with their own private gardens, pools, and a very unique feature – Pavillions – set within the private landscaped gardens and snaking through the private pools, for a more intimate, relaxing feel.
Enjoy beach resort living style with:
• Premium villas near the ocean where owners can enjoy a romantic walk on the beach, a host of activities or simply relax in the private beach cabanas.
• Spectacular views toward the East Sea, Cham Islands, and Marble Mountains
Always unique, fresh, and innovative, Fusion Resort & Villas Da Nang will not disappoint.
Designed with their signature down-to-earth approach to luxury in mind, each villa curates the perfect vacation location, combining privacy, comfort and relaxation with natural light, fresh breezes and views over the sea or private gardens.

Prime Beachfront Location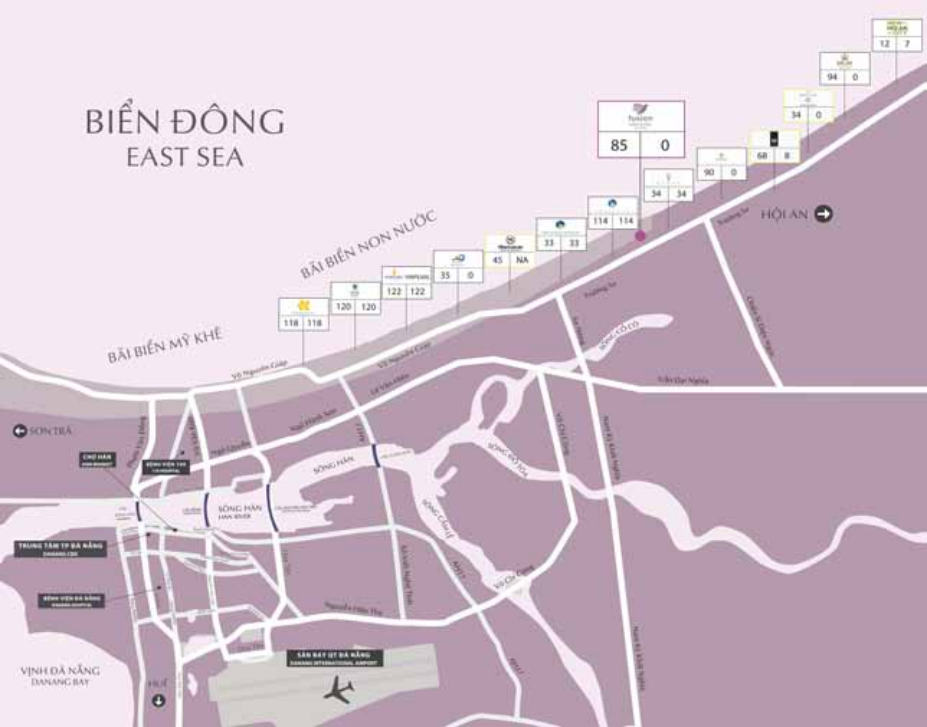 The prime location choice for Fusion Resort and Villas Danang, which is perched on a bluff above the East Sea, on Truong Sa Street in Hoa Hai Ward, Ngu Hanh Son District,
Da Nang, Vietnam with some of the most pristine beach Vietnam has to offer.
Very convenient access to both Hoi An Ancient Town (UNESCO), while being only 20 minutes away from Danang International Airport and just few minutes from some of the most beautiful beaches of Vietnam.
Vietnam's Central Coast, from Hue to Hoi An with Danang its capital, is fast becoming South East Asia's newest and most attractive tourism and leisure hub. The Central Coast has indeed lots to offer to vacationers and real estate investors: long white sandy beaches; breathtaking natural sites; temperate climate; exceptional heritage that includes UNESCO Cultural Heritage sites of Hoi An Ancient Town, My Son Sanctuary and the Imperial City of Hue.
Delicious culinary specialties; vivid cultural and recreational life including international acclaimed festivals, 5 international golf courses with 3 new ones approved, also a  major casino, golf and entertainement projects underway in South Hoi An – all within less than 30 minute drive.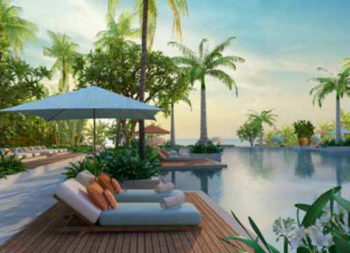 Beachfront Luxury at Your Doorstep
Download the Payment Term
Schedule a Site Visit/Get Full Details?
Unique Investment Opportunity
Why invest in Fusion VILLAS DANANG?
The Fusion Villas Danang are available for acquisition to foreign investors (LTLA) and Vietnamese buyers (SPA) .
Villa owners can elect to participate in an optional hotel rental and management program operated by reputable hotel manager – Fusion.
Fusion Resort and Villas Danang delivers a top-tier property product to guests, while also creating favorable returns for our shareholders – the villa owners.
Location, location, location..
Capital Appreciation Potential
Beachfront Lifestyle Investment
WANT TO KNOW MORE ABOUT INVESTING IN FUSION DANANG VILLAS?
REPUTABLE DEVELOPER & OPERATOR
Fusion – a resort and hotel company present in Vietnam since 2008 is well known for it's excellent all-spa-inclusive resorts.
With multiple operational or scheduled to open in 2019 properties in locations such as Da Nang, Ho Chi Minh City, Nha Trang – Cam Ranh, Vung Tau, Phu Quoc Island, the company keeps on expanding.
The cooperation with experienced partners and being a part of LOGIS – a hotel investment platform formed through a joint venture between Warburg Pincus and Vinacapital, enables Fusion to focus on building  a portfolio of hotels across Vietnam and Southeast Asia, simultaneously handling developments, acquisitions and operations.
Based in Singapore, Lodgis is currently on an expansion curve, actively exploring acquisition of operating platforms and emerging hotel brands in Southeast Asia and across the region. 
Lodgis investments include all the Fusion properties, Raffles Hotels both in Phnom Penh and Angkor Wat, and the Sofitel Legend Metropole.
With the help of in-house designers and project managers, Fusion is able to take a more complete view of every project it undertakes, seeing the entire process play out from both a developer and hotelier's point of view.
Fusion Resort and Villas Danang – VILLA SALES